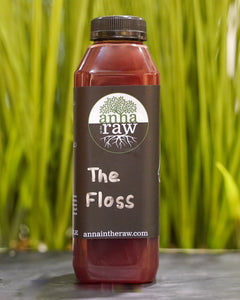 The Floss
Regular price
$10.00
$0.00
The Floss is named after one of our favorite people, DJ Steph Floss. He's the official DJ for our hometown Cleveland Cavaliers and he's always looking to treat his body well but knows he doesn't have to give us taste with Anna's food and juice. 
All vegan, cold-pressed, gluten free, and organic 
No added sugar or water -- only the good stuff! 
Ingredients: mango, pineapple, cherry, kiwi, ginger 
Nutritional Facts: Serving Size 1 Bottle / nutritional info coming soon!
A proceed of all sales from The Floss will go to the Floss Foundation (501c).
Are you local to Cleveland and want to grab your juices today? The Cafe is open Monday through Friday from 7:30am to 4 pm and this is a juice we usually keep stocked in our fridge. If your heart is set on this one and you want to be sure you get it, call us at (216) 533-7973 and we'll help make it happen.
---
More from this collection